R|A|P calendar
POSTED:
23 Jun 20 01:44
UK
NORTH LONDON
New Beacon Books  76 Stroud Green, Finsbury Park, London, N4  3EN
Pepukayi Books The Maa Maat Cultural Centre, 366a High Road, Tottenham, N17 9HT
All Eyes on Egipt Bookstore  124a West Green Road, Tottenham, London, N15 5AA 
BIS Publications PO Box 14918  N17  8WJ   0845  226  4066 
 
SOUTH LONDON
Adonis & Abbey Publishers  PO Box 4433418, London, SE11, 4XZ Telephone: 0207 733 8803
Pempamsie   102 Brixton Hill, Brixton, London,  SW2, 1AH  0207 678 2555
Pempamsie   219 London Road, Mitcham,  CR4 2JD 0208 089 7961
Moremi Books: Market stall located on Brixton Station Road Thursday  – Saturday, 9am – 5pm 
Tamare House Publishers 25 Brixton Station Road, Brixton, London SW2, Telephone: 0207 978 8321
Books of Africa  16 Overhill Road, East Dulwich SE22 0PH  07931 876013 
Round Table books : 97 Granville Arcade, Coldharbour Lane, Brixton, London, SW9 8PS
WEST  LONDON
Jacaranda Books Arts & Music: 27 Old Gloucester Street, Bloomsbury, London, WC1N 3AX    
Tamarind Books Ltd  61 – 63 Uxbridge Road, London W5 5SA 
OUTSIDE LONDON
African Books Collective PO Box 721 Oxford OX1 9EN UK TEL/FAX +44 (0) 1869 349110 www.africanbookscollective.com
Hansib Publications PO Box 226 Hertford Hertfordshire SG14 3WY 0208 523 0888 www.hansib-books.com
MyBookbasket  Unit 9 Market Village, OneStop Shopping Centre, Walsall Road, Perry Barr, Birmingham B42 1AA
 
ONLINE ONLY
This is Book Love: Travelling Multicultural Book Carnival 
USA
Little Rock, AR
Pyramid Art Books & Custom Framing
Long Beach, CA
Shades of Afrika
Los Angeles, CA
Eso Won Bookstore · Reparations Club · Malik Books
Vallejo, CA
Ashay by the Bay
Oakland, CA
Marcus Books (local phone orders)
Monterey, CA
Old Capitol Books
Sacramento, CA
Carol's Books (local phone orders) · Underground Books
Old Saybrook, CT
Burgundy Books
District of Columbia
Mahogany Books · Sankofa Video Books & Cafe · Loyalty Bookstore · Solid State Books
Boynton Beach, FL
Pyramid Books
Longwood, FL
Dare Books
St. Petersburg, FL
Cultured Books
Tampa, FL
Best Richardson African Diaspora Literature & Culture Museum
Atlanta, GA
Medu Bookstore (launches online bookstore in a month, contact store if you want to be notified) · For Keeps Bookstore · Good Books
Covington, GA
Onyx Bookstore Cafe
Decatur, GA
The Listening Tree · Brave + Kind Bookshop
Lithonia, GA
Black Dot Cultural Center
Mableton, GA
All Things Inspiration Giftique
Morrow, GA
NuBian Books (local phone orders)
Chicago, IL
Frontline Bookstore · Semicolon Bookstore & Gallery · The Underground Bookstore (local phone orders)
Maywood, IL
Afriware Books, Co
South Bend, IN
The Brain Lair Bookstore
Kokomo, IN
Beyond Barcodes Bookstore
Evansville, IN
Akoma Novelties & Books
New Orleans, LA
Community Book Center (local phone orders)
Baltimore, MD
Everyone's Place (local phone orders)
Gwynn Oak, MD
Wisdom Book Center
Silver Spring, MD
Loyalty Bookstore
Boston, MA
Frugal Bookstore
Rockport, MA
Susie's Stories
Springfield, MA
Olive Tree Books N Voices (local phone orders)
 Detroit, MI
Source Booksellers · Detroit Book City
Highland Park, MI
Nandi's Knowledge Cafe
Ypsilanti, MI
Black Stone Bookstore & Cultural Center
University City, MO
EyeSeeMe
Kansas City, MO
Willa's Books and Vinyl · Bliss Books & Wine
Charlotte, NC
Shelves
 Omaha, NE
Aframerican Book Store
Camden, NJ
La Unique African American Books & Cultural Center
Newark, NJ
Source of Knowledge Book Store (call 973-824-2556 for local orders)
 New York, NY
The Lit. Bar · Cafe con Libros · Sister's Uptown Bookstore
Buffalo, NY
Zawadi Books (local phone orders)
Akron, OH
Elizabeth's Bookshop & Writing Centre

Cleveland, OH
A Cultural Exchange
Columbus, OH
Alkebulan Ujaama Book Store (local phone orders)
Tulsa, OK
Mocha Books
Philadelphia, PA
Books & Stuff · Uncle Bobbie's Coffee & Books · Harriett's Bookshop
Ross Township, PA
The Tiny Bookstore
Goose Creek, SC
Turning Page Bookshop
Austin, TX
Black Pearl Books
Dallas, TX
Pan-African Connection
Duncanville, TX
Enda's Booktique
Fort Worth, TX
The Dock Bookshop
Killeen, TX
Black World Books
Alexandria, VA
Harambee Books and Artworks
Chesapeake, VA
Urban Moon Books
Norfolk, VA
House of Consciousness
Martinsville, VA
Books and Crannies
Virginia Beach, VA
Positive Vibes
 
ONLINE ONLY
Loving Me Books

Kizzy's Books & More

Black Classic Press

Key Bookstore

The Literacy Shop

44th & 3rd
POSTED:
28 Jan 20 03:46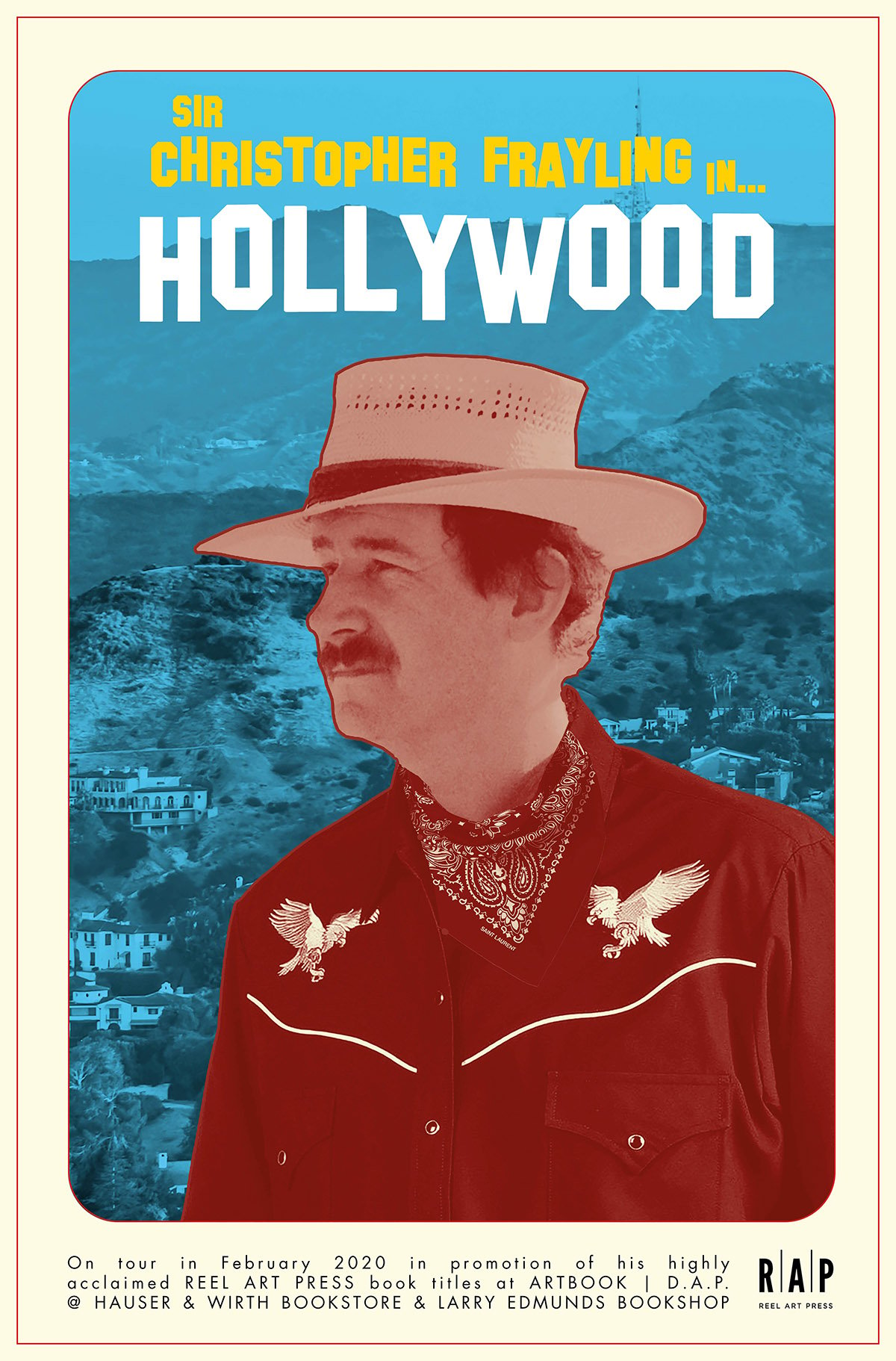 Los Angeles talks and book-signings with Christopher Frayling!

Once Upon a Time in the West: Shooting a Masterpiece
Talk and Book-signing
3PM
901-909 E 3rd St, Los Angeles, CA 90013

-
Sunday February 9th
French New Wave: A Revolution in Design
Talk and Book-signing
with Reel Art Press editor-in-chief Tony Nourmand
3PM
901-909 E 3rd St, Los Angeles, CA 90013

-
Tuesday February 11th
Frankenstein: The First 200 Years and The 2001 File
Talk and Book-signing
7.30PM
6644 Hollywood Blvd, Los Angeles, CA 90028


 
POSTED:
03 Dec 19 03:40
"Where to begin with this beauty. Topping this year's book buyer's guide is 2019's most beautiful film book, the incredibly designed French New Wave: A Revolution in Design. Put together by the team of Tony Mourmand, Graham Marsh and Christopher Frayling, this book is less a narrative read than a series of profiles about artists from across the globe who left their mark on the world through the posters they produced for the films of the French New Wave. Including biographies on over 100 separate artists, this book looks at creatives both big and small, ranging from Jean Cocteau to Kiroku Higaki, including hundreds of photographs and archival materials bringing their work back to life in as vivid a way as one could ever imagine.
Diving into the history of the French New Wave via a discussion of design, this book is an important and thoughtful text about one of film's great movements, a series of brief artist profiles that re-contextualize this moment in history in a manner never truly done before. The epitome of a coffee table book, this will no doubt be the topic of any discussion you have after buying it, and any cinephile should be proud to give or receive this deeply important work as a gift this holiday season."
POSTED:
18 Sep 19 12:27
"This monumental volume is one of the best books ever to be devoted to a single film."

Michel Ciment, editor of Positif magazine, has penned a gleaming review of Christopher Frayling's Once Upon a Time in the West: Shooting a Masterpiece. 

Read the full review here.
POSTED:
31 Aug 18 11:23

Led Zeppelin by Led Zeppelin is now available to pre-order in the following language editions: Dutch, German, Italian and Japanese.

Dutch edition published by JEA: bit.ly/2wb4FW2

German edition published by Reel Art Press GmbH: bit.ly/2MouX28

Italian edition published by Rizzoli Lizard:  bit.ly/2PRVUce

Japanese edition published by Shinko Music: bit.ly/2MUz3Lq 
POSTED:
30 Aug 18 03:19
Support Independent Retail.

Exclusive R|A|P Led Zeppelin Poster (19.7 x 27.8IN) available only with pre-orders made before September 15th at selected stores and Reel Art Press.

Click Here to see a list of selected stockists worldwide.

Please note: All orders already placed through Reel Art Press will automatically receive a poster.